About
The sequence of events that led up to Teresa Turrou-Bressert, an American expatriate living in Mexico,
starting a business to sell Copper furniture and soaking tubs in the US over the internet.
My grandparents settled the Rio Grande Valley in Texas in the early 1900's. As a child I spent my summers in south Texas. Padre Island and trips to Mexico were part of my summer vacations. So, I was not a stranger to Mexico as an adult. When I moved to Tucson, Arizona in the 70's we bought a house with the largest swimming pool in Tucson. We bought the house because of the pool. What we really wanted was to live on the ocean. So, the pool was our compromise. The house itself was a remodel. In hindsight, it would have been much easier to find a house in good repair and build the largest swimming pool in Tucson.
Designing our new home, I found myself attracted to the art of Mexico and found a shop in Nogales that sold Mexican antiques and folk art. I made many trips to this shop in search of items for our new home. I visited the shop 25 years later, and Enrique, the shop manager, called me out by name when I walked through his shop door, a testimony to the many trips I had made to his shop 25 years earlier in search for the treasures of Mexico, an activity I still pursue.
Years later, my husband and I moved to Sayulita, Mexico, a small fishing village on the Pacific side of Mexico, to be by the ocean. (In 2001, Sayulita was still a small fishing village.) We settled in by the sea overlooking a deserted beach that we could walk for miles, complete with a mussels bed, good fishing, the best sunsets I have ever been privileged to experience, and a powerful antenna tower that provided a good internet connection for our work. Walter, my husband, was a market analyst and trading advisor and was able to work abroad as long as he had the internet. He needed to be online for his market analysis and trading. He was the analyst and star of the show; I was the business manager.
Summer arrived with the extreme summer heat and humidity. Our home was open to the outside with solar panels providing our electricity. Air conditioning was not a possibility. The summer climate would have destroyed our office equipment. Sadly, we realized it was time to leave our jungle home by the sea and move on.
Sayulita is not far from Puerto Vallarta. On one of my trips to PV, I passed by a shop selling a gigantic clay pot over 6 feet tall. I fell in love with the BIG pot at first sight and asked the shop owner where the big pots were made.
He replied, "Patzcuaro". So, the Big Pot in Puerto Vallarta put Patzcuaro on the map for me. A few weeks later, Walter and I were in Mazatlan sitting in an outside bar, listening to music under the stars. A man was playing a saxophone which we really enjoyed. We invited him to our table during his break. It turned out, he spent his summers in Patzcuaro. He connected us with an elderly gentleman Jay Boger who had lived in Patzcuaro since the late 80s. Patzcuaro is one of the Magical towns in Mexico with the old world charm of authentic Mexico. So, off to Patzcuaro we trekked.
One of the folk art centers of Mexico, Patzcuaro is located on the Purépecha plateu in the state of Michoacan. Cocucho (translates to "top of the world") where the BIG pots are made is about 1.5 hours outside of Patzcuaro. I hired Jay to take me there. Thus began my love relationship with Cocuchas (big pots).
A few years later, husband Walter was diagnosed with Alzheimers. I realized I was going to have to figure out a way to support us. I was in my early 60s so going back to the US to find work was not an option. I decided to do what I loved to do which was buying high end Mexican folk art. Living in Patzcuaro, I was surrounded by many of the Great Masters of Mexican Folk Art. I started a website called "The Art of Mexico". I sold the very best Mexican folk art -- masks by the Great Masters of Mexican Folk Art, Catrinas by Juan Torres, clay pottery by award-winning artists, intricately, hand-carved wood Madonnas, feathered rebozo art, local Chuspata hand-woven reed furniture, decorative copper vases and home accessories made by award-winning artists, and of course, the Cocucha BIG POTS. I spent my weekends traveling through the Purépecha plateau attending the numerous consursos (competitions) in search of rising artists to include in my Art of Mexico website.
Here are a few photos from my now defunct Art of Mexico website. Mexico is rich in folk art which tells the story of the people. If you have an interest in learning more, one of the very best folk art shows in Mexico that takes place every November is the Feria Maestros del Arte, founded by Marianne Carlson, an American expatriate (now a Mexican citizen), in 2001 to preserve and promote Mexican indigenous folk art.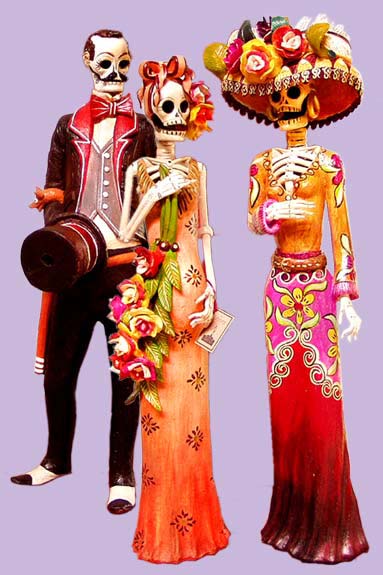 My friend Jay Boger exported copper table tops so I put up a gallery on my Art of Mexico website for his copper table tops. Eventually, we were getting more business for the copper furniture and and soaking tubs than all of the other galleries combined. So, this is how I started selling copper furniture and soaking tubs with Jay as my mentor. As time progressed, through acquaintances, I connected with carpenter and iron artists, and I added table bases for copper tables to the Art of Mexico website. It was in 2008 that I stopped selling Mexican folk art and concentrated solely on Copper.

We collaborate and oversee the building process from our nearby office location in Mexico. Quality is never sacrificed resulting in outstanding completed works that meet or exceed your expectations.
CUSTOM COPPER WORKS BRINGS
YOUR DESIGN IDEAS TO LIFE
CUSTOM COPPER WORKS is unique. We work for YOU!
We work for you as your personal agent to insure your custom design meets or exceeds your expectation. We collaborate and oversee the building process and workmanship from our nearby office location in Mexico. Quality is never sacrificed. This is our value to you.
You are included in the building process. You receive photos for approval as the work is in progress. When the work is completed you receive detailed photos of the completed work for final photo approval before we ship. The photos on this website are completed work photo approval images.
Our business is built on Happy Customers.
Check out our Happy Customer Testimonials that testify to our good works. The comments are truly inspiring.